How to make a Chocolate Ferrero Rocher Heart
16 Jan 2023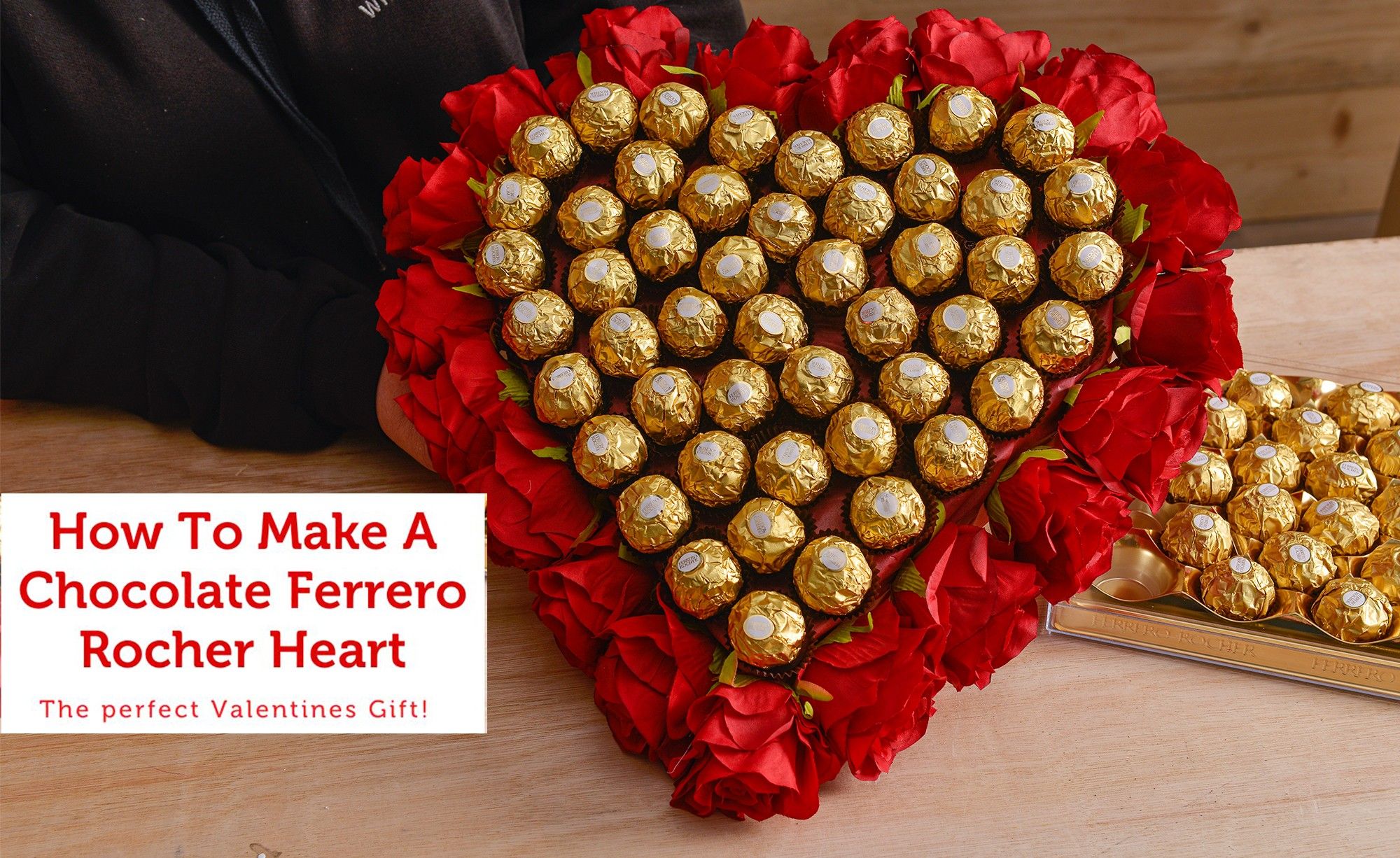 Have you got Tiktok? If so, you may of seen the Ferrero Rocher Chocolate love heart that has been going viral...and we can see why! This is the perfect handmade Valentine's gift that any chocolate lover will surely enjoy! If you'd like to make your own for someone special, we have created a blog with step-by-step instructions on how to make this yummy gift.
Read below to get your Valentine's Crafting on;
What You Will Need:
Foam Heart - 2112PC
Artificial Rose Bouquets - SF0830R (we used 19 roses)
Red Tissue Paper - PA3275
Hot Glue Gun - GL8539 (to secure roses into foam)
Floristry Scissors - SC4608
Ferrero Rochers (we used 52, but you may use less or more depending on the Foam Heart Sizing you used)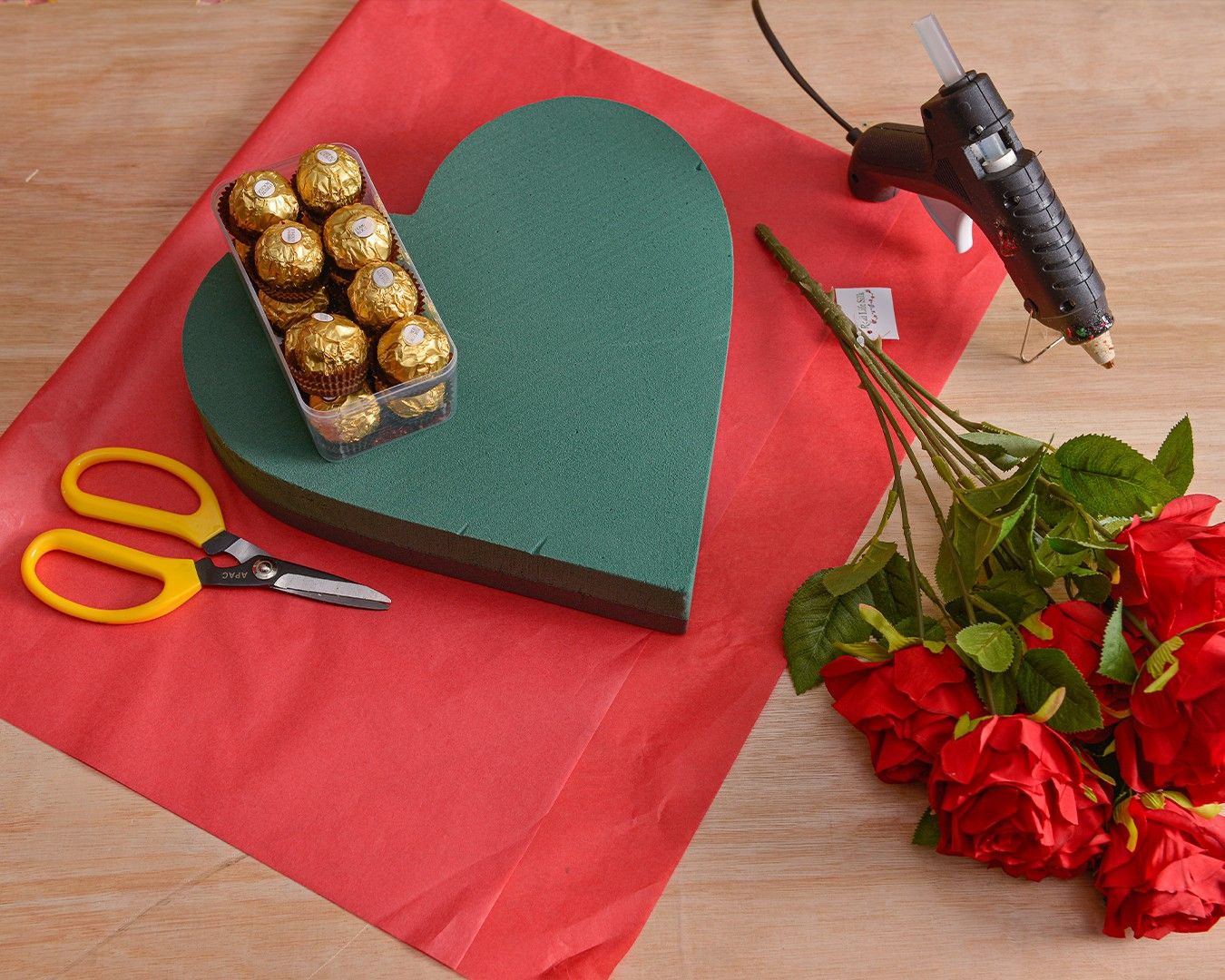 Step 1)
Firstly, make sure the Foam heart is Foam down, the Ferrero's will be glued on the back of the heart (hard part) with the Artificial Roses going into the side. After this, you can then wrap the Foam Heart in red tissue paper, this would make any gaps in the final product still look aesthetically pleasing. Make sure when you fold the tissue paper around, you keep it as close to the heart as possible to make sure there's nothing sticking out too much as you want to keep the shape of the original heart as much as possible.
Step 2)
Once the tissue paper is secured, plan out where and how many Ferrero Rochers you can squeeze into the heart. When you're happy with the layout, move the Ferrero Rochers to the side (and eat any spares!)
Step 3)
Now its time to cut up your artificial roses. Cut them to expose a roughly 4-5cm stem, with all the 'thorns' and leaves off so its stem only (this allows it to smoothly go into the foam). Then simply place a little bit of hot glue at the end of the stem, and gently push it through the tissue paper into the foam. When it dries, the glue will keep them secure in the foam.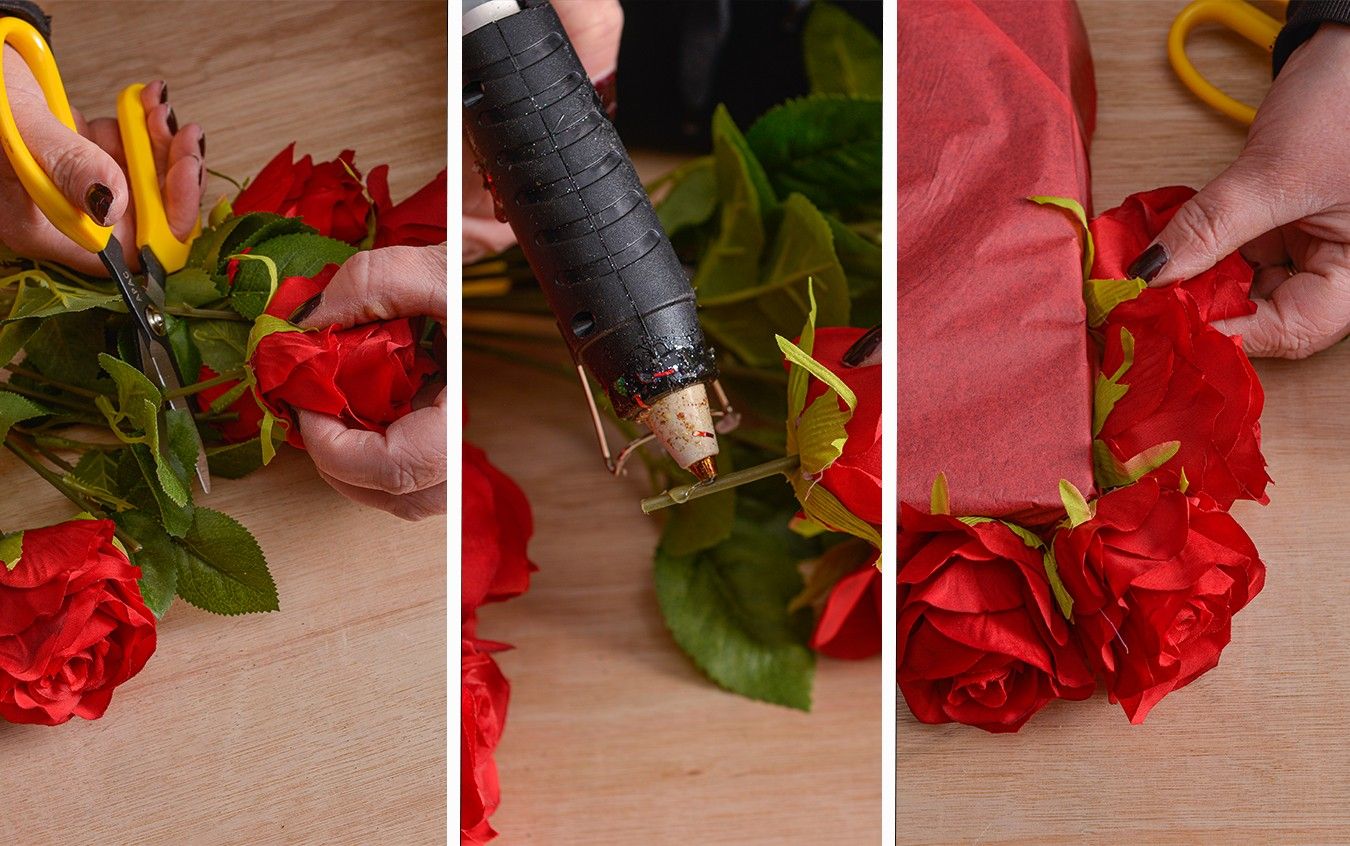 Step 4)
Finally, when you are happy with the placement of the artificial roses, you can now glue on the Ferrero Rochers to the top - make sure you are gluing them onto the back of the foam heart (the hard end) to keep them secure. Start of the outside of the heart and work your way into the middle, making sure to have as minimal gaps as possible.